Dominic Cummings, the PM's former chief adviser, has unleashed an all-out attack on Boris Johnson and his government, denying he was the source of a leak of the PM's texts, claiming Mr Johnson actions fall "far below the standards of competence and integrity", and accusing Downing Street's director of communications of "false accusations to the media".
In a 1,000-word blog post, Mr Cummings also wrote that attempts to get a Conservative donor to secretly pay for lavish refurbishments of the Prime Minister's Downing Street flat was "unethical, foolish, possibly illegal and almost certainly broke the rules".
The blogpost was written in response to stories in three national newspapers that Mr Cummings was behind this week's leak of text messages between the Prime Minister and businessman Sir James Dyson.
The leak revealed Mr Johnson had promised Sir James he would "fix" a tax issue for Dyson staff working to develop ventilators early on in the pandemic.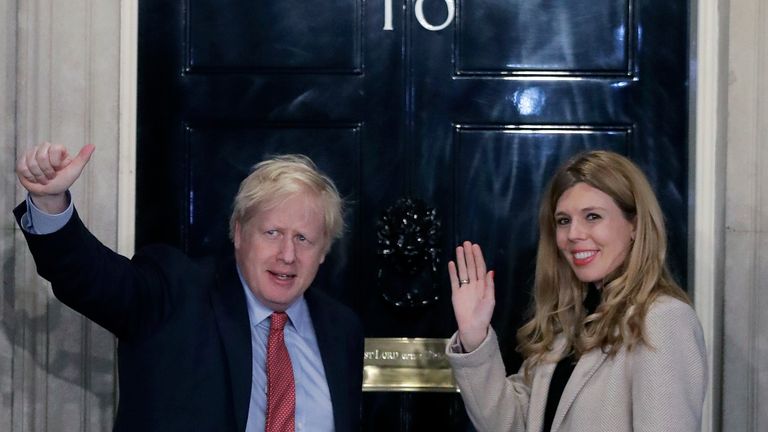 Mr Cummings said: "I do have some WhatsApp messages between the PM/Dyson forwarded to me by the PM.
"I have not found the ones that were leaked to Laura Kuenssberg on my phone nor am I aware of being sent them last year. I was not directly or indirectly a/the source for the BBC/Kuenssberg story on the PM/Dyson texts."
He said he is "happy to meet with the Cabinet Secretary" and to have his phone searched.
Mr Cummings also wrote about the renovation of Mr Johnson's Downing Street flat.
He said the PM had "stopped speaking" to him about renovations last year "as I told him I thought his plans to have donors secretly pay for the renovation were unethical, foolish, possibly illegal and almost certainly broke the rules on proper disclosure of political donations if conducted in the way he intended".
Mr Cummings has claimed the UK's top civil servant believed that another No 10 adviser, Henry Newman, leaked the news of England's second COVID lockdown last autumn. But Mr Cummings said the PM considered shutting down the government inquiry into that leak because Mr Newman is a close friend of Mr Johnson's fiance Carrie Symonds.
Henry Newman has been contacted for comment.
Mr Cummings quoted the prime minister as telling him: 'If Newman is confirmed as the leaker then I will have to fire him, and this will cause me very serious problems with Carrie as they're best friends … [pause] perhaps we could get the Cabinet Secretary to stop the leak inquiry?"